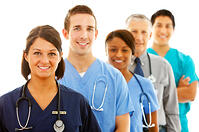 Ohio Department of Health has implemented some new background check rules for Home Health Agencies effective January 1, 2013.
Home Health Agencies (HHAs) are currently required to request the Superintendent of the Bureau of Criminal Identification and Investigation to conduct a background check on applicants. However, the new rules require additional steps.

The new rules continue to require the administrator to conduct the criminal background check from the Superintendent prior to hiring the individual, but it also requires that a record check be performed at least every five years thereafter. For employees hired prior to Jan. 1, 2008, the administrator is required no later than thirty days after the anniversary of the employee's date of hire and at least every five years thereafter to request a background check. For employees hired after Jan. 1, 2008, no later than thirty days after the fifth anniversary of the employee's hire date and at least every five years thereafter, the administrator must initiate a background check. If the employee cannot prove they have resided in Ohio for the previous five years, the administrator must request a background check from the US Federal Bureau of Investigation.
The new rules also now require the chief administrator to perform six database searches prior to conducting the criminal background check. These database searches must be performed initially and the HHA shall not hire an individual if these searches disclose disqualifying information or show findings that the employee/applicant neglected or abused a resident or misappropriated property of a resident. The six database searches to be searched are as follows:
The "System for Award Management" maintained by the US General Service Administration.

The list of of excluded individuals and entitles maintained by the office of inspector general in the US Department of Health and Human Services

The registry of employees guilty of abuse, neglect, or misappropriation maintained by the Ohio Department of Developmental Disabilities.

The database of inmates maintained by the Ohio Department of Rehabilitation and Correction

The sex offender and child victim database maintained by the Ohio Attorney General

The Ohio Nurses Registry.
Administrators are required to provide notice to the applicant that they are required to provide finger print impressions, and that a criminal records check is required and will be a condition of continued employment. In addition, they must further provide the applicant with the appropriate forms and must maintain documentation of compliance of their procedure.
The new rules have provided a list of disqualifying offenses on a tiered system. They have listed out the disqualifying offenses and based the exclusions on a time period; permanent, ten-year, seven-year, five-year, and no-time period. Please contact Hirease for a full list of the disqualifying offenses and time periods.